A zero carbon Luton will take all of us – citizens, council, businesses, organisations, schools and more. But what do we need to do? How are we going to do it?
Luton Council have revealed the first details of a new 'roadmap' for how Luton will get to net zero carbon by 2040. Having set the target and outlined its ambitions in the previous climate plan, this draft document begins to describe how this will be achieved.
From a baseline of 2019's emissions, the challenge is to reduce CO2 across all sectors over the next 18 years: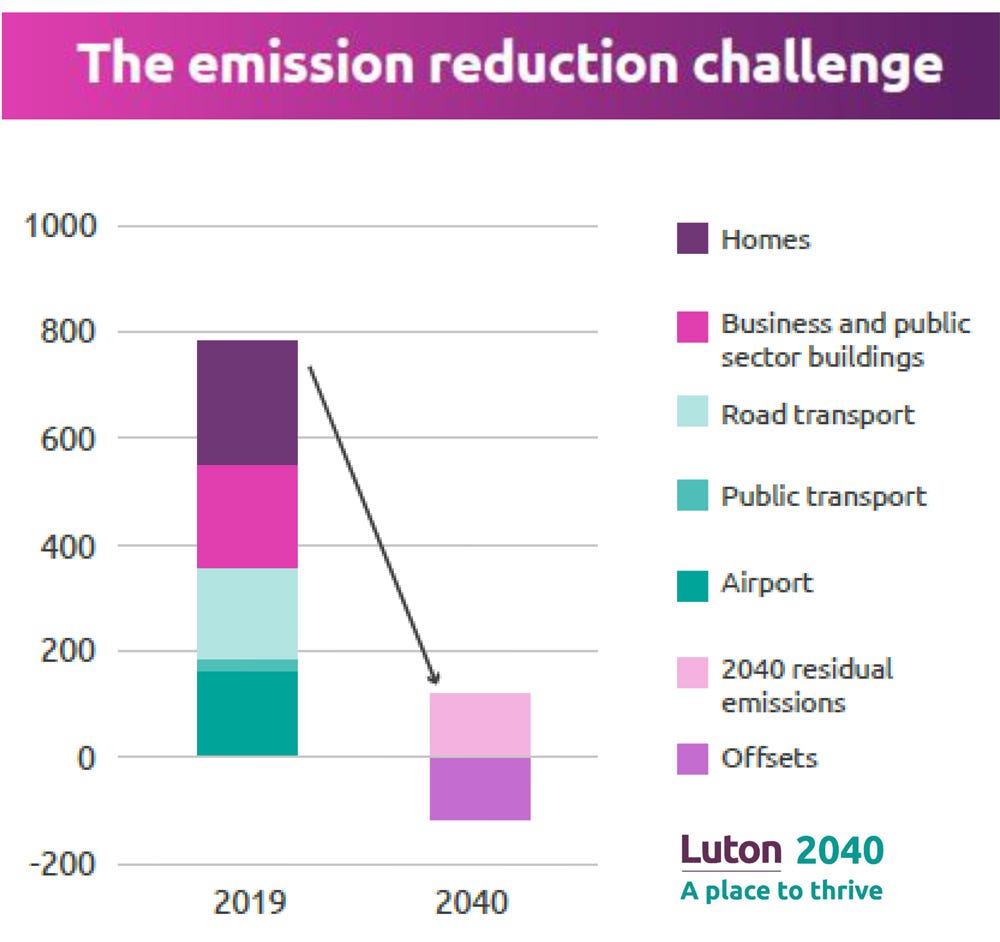 The roadmap, to be published in full later in the year, describes a three stage process towards zero carbon. In the early years of this decade we can expect a focus on strategy and awareness raising, then moving on to pilot projects that begin to demonstrate where the town is going. Highly visible projects such as the town centre redevelopment and zero carbon council buildings will lead the way.
By the late 2020s we'll begin to see projects scaling up. There will be extensive investment in infrastructure for electric transport. Lots of jobs will be created in the new green economy. Larger projects will include whole-street retrofits and the first local heat networks.
The 2030s will see more widespread implementation, with Luton's homes retrofitted to net zero standards. Electric transport, renewable energy and renewable heat will all become normal.
As emissions fall, so will air pollution. Health outcomes and quality of life will improve. Energy costs will be reduced, as Luton's climate change plan works in tandem with its goal to end poverty in the town. We look forward to sharing more details on the plan in the coming months.
Since we're all involved in creating a zero carbon Luton, it's important to get the roadmap right. So you'll have the opportunity to comment on the draft in a forthcoming consultation – look out for more details of that soon. In the meantime, why not view the plan and see what you think?